23
JAN
2018
IT Freelance event: Guide to 2018
3Hoog Leuven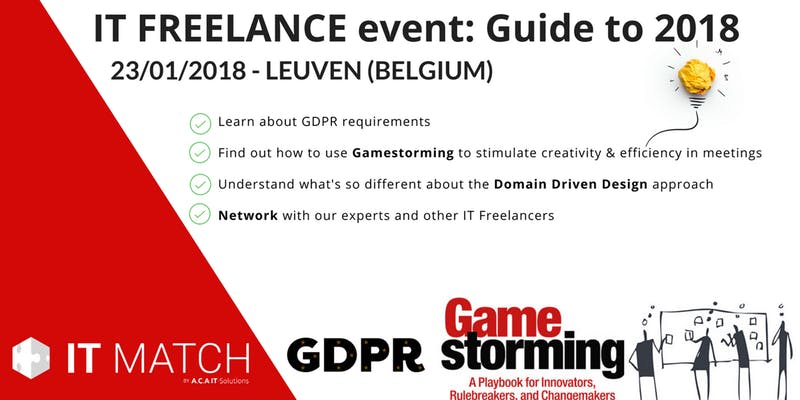 ACA IT-Solutions is organizing an event for IT Freelancers in Belgium. Get ready for 2018 with inspiring sessions and workshops about GDPR, creativity, goal management and domain-driven design:
GDPR in 2018
Gamestorming workshop 
Gamestorming is a set of practices for facilitating innovation in the business world.
Domain-Driven Design workshop
Domain-driven design (DDD) is an approach to software development for complex needs by connecting the implementation to an evolving model.
AGENDA
17:00 – 18:00
Early Birds are always welcome (WiFi & coffee available)
18:00 – 18:45 
Registration with tapas & drinks
18:45 – 19:30 / Welcome sessions
19:30 – 19:45 / Short break 
Short break with drinks and snacks
19:45 – 20:45 / Freelance workshop sessions
Choose 1 of our expert workshop sessions:
Session 1 : Gamestorming workshop 
Learn how to stimulate creativity in meetings and lead a group towards a goal with gamestorming techniques.
Session 2: Domain-Driven Design workshop
Understand how to approach everything surrounding software development, make use of Ubiquitous Language and learn how to easily verify whether your team is building the right thing.
20:45 – 22:00 / Reception
Networking with food & drinks
Subscribe here!